"it's like adding multiple developers to my team"
"the true Rails spirit, fast and effective"
Build business apps
10x faster
Stop rewriting the same code
Avo uses familiar configuration to build up the features you need from most applications.
The result is a full-featured customer-facing app that works out of the box, ready to give to your end-users.
copy and paste
to install in a Ruby on Rails app
All the tools you need to build your new app fast 🏃💨
Using Avo is like bringing a new developer to your team that's building all the boring stuff in a beautiful way
Loved by our customers
Avo, for me as a freelance webdev, was a gift. You can build beautiful admin panels in the true Rails spirit, fast and effective.

Not does it only look great, but it has all the latest bells and whistles from Rails, like Hotwire.
I was hand-rolling an admin dashboard for this community database of third-party RPG content. It was painful for them to use but this morning I just dropped Avo in and suddenly it's a dream!

Means I can focus on the user-facing stuff without worrying about neglecting the data entry people 🤣
Avo is the first well documented admin gem that is able to deal with all types of objects provided by active record, including polymorphic models and direct upload for cloud storage providers.

Thank you for this wonderful product.
Our first community curator has had

such a seamless experience working with the Avo

backend that we're pushing the project beyond the one catalogue we were initially creating, to making this a platform for other communities to benefit from as well.
Want product news and updates?

Releasing new features regularly
v2.16.0 released 5 days ago
v2.16.0 - Skip show view, advanced fields on actions, create button on has_one association
See all releases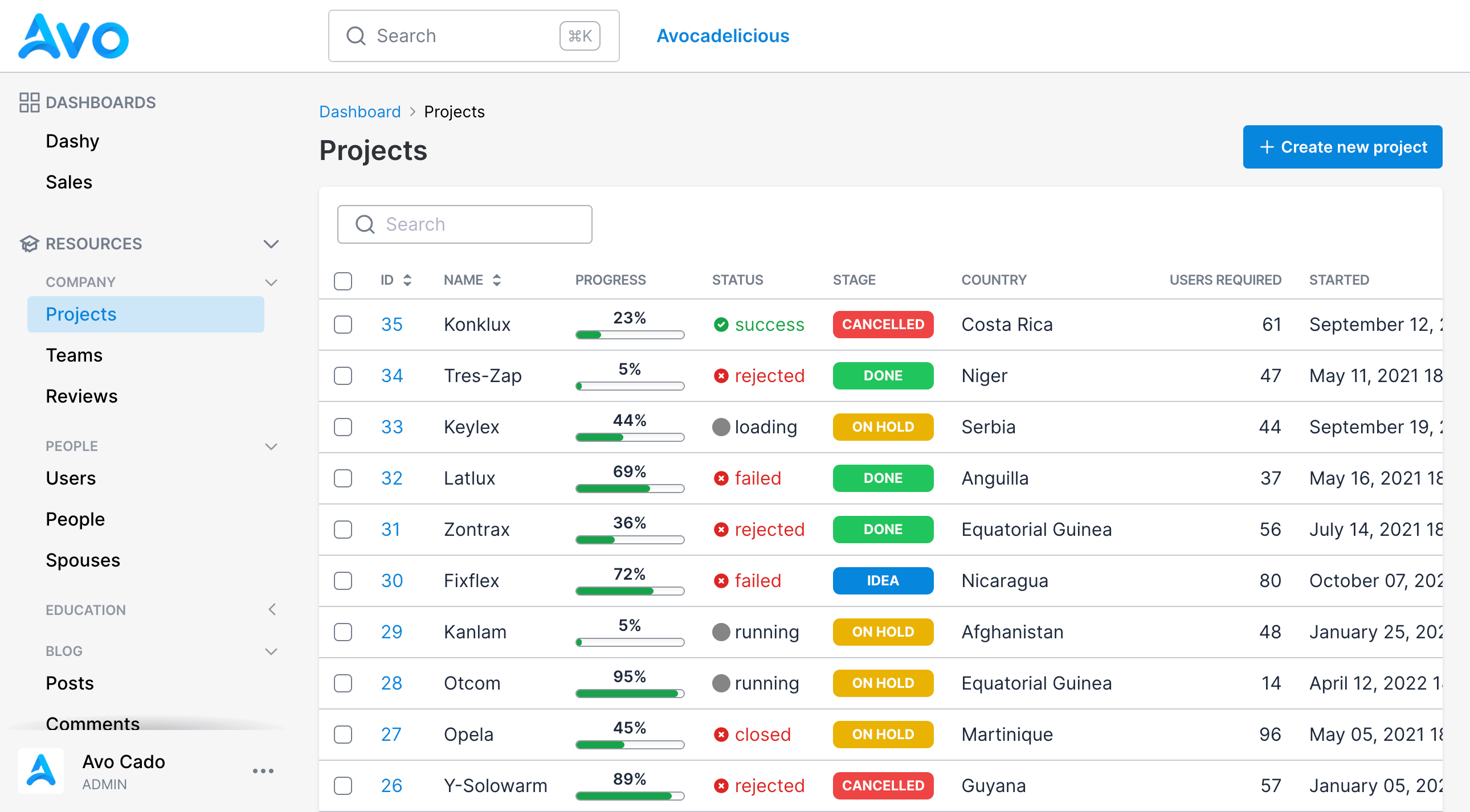 A video library by your side
Do you learn better by watching videos? We got you covered!
Ready to save some development time?
Start your free trial today.