"it's like adding multiple developers to my team"
"the true Rails spirit, fast and effective"
Build business apps
10x faster
Stop rewriting the same code
Avo uses familiar configuration to build up the features you need from most applications.
The result is a full-featured customer-facing app that works out of the box, ready to give to your end-users.
copy and paste
to install in a Ruby on Rails app
All the tools you need to build your new app fast 🏃💨
Using Avo is like bringing a new developer to your team that's building all the boring stuff in a beautiful way
Loved by our customers
Data security has always been an important consideration for us

, so Avo gives us peace of mind integrating with our in-house authentication system.
I needed something snappy and reliable that would help me focus on the truly unique aspects of my application rather than the boilerplate.

Avo gave me exactly what I was looking for in the moment, and somehow anticipated the features I'd need later on down the line.
You'll need to invest time in the docs, but this will leave you implementing features you haven't thought of because they are both straightforward to implement and beneficial to the user.

The Avo team has their finger on the pulse and has built a modern reactive solution with great support and regular updates.

There is much value in here.
I've spent time looking into solutions that complement a sensible modern stack that gets you to the point of focussing on the product you're building sooner and does not induce conceptual compression along the way.

Avo fits nicely into that stack.
Avo has enabled our team and client to collaborate in a much more seamless way.

Our favorite thing about Avo is the feature-loaded modern web interface and the ease of customizing from fields to pages is also impressive.
Avo is a beautiful Rails based administration system. In comparison to competitors, it wins in it's visual style immediately and that's not taking into account all of its features.

It's simple to use, has excellent documentation, and anything that is not covered is helped super quickly and efficiently by Adrian.

Highly recommended!
Adding Avo to my project was like adding multiple developers to my team

- and that's before I even purchased a license!
Avo, for me as a freelance webdev, was a gift. You can build beautiful admin panels in the true Rails spirit, fast and effective.

Not does it only look great, but it has all the latest bells and whistles from Rails, like Hotwire.
The Avo team themselves have been so responsive and helpful with any questions, concerns or requests.

Releasing half of your app to a single gem is a daunting prospect, but I have experienced how much the team respects their users and appreciates their responsibility.
Avo is the first well documented admin gem that is able to deal with all types of objects provided by active record, including polymorphic models and direct upload for cloud storage providers.

Thank you for this wonderful product.
Want product news and updates?

Releasing new features regularly
v2.16.0 released 5 days ago
v2.16.0 - Skip show view, advanced fields on actions, create button on has_one association
See all releases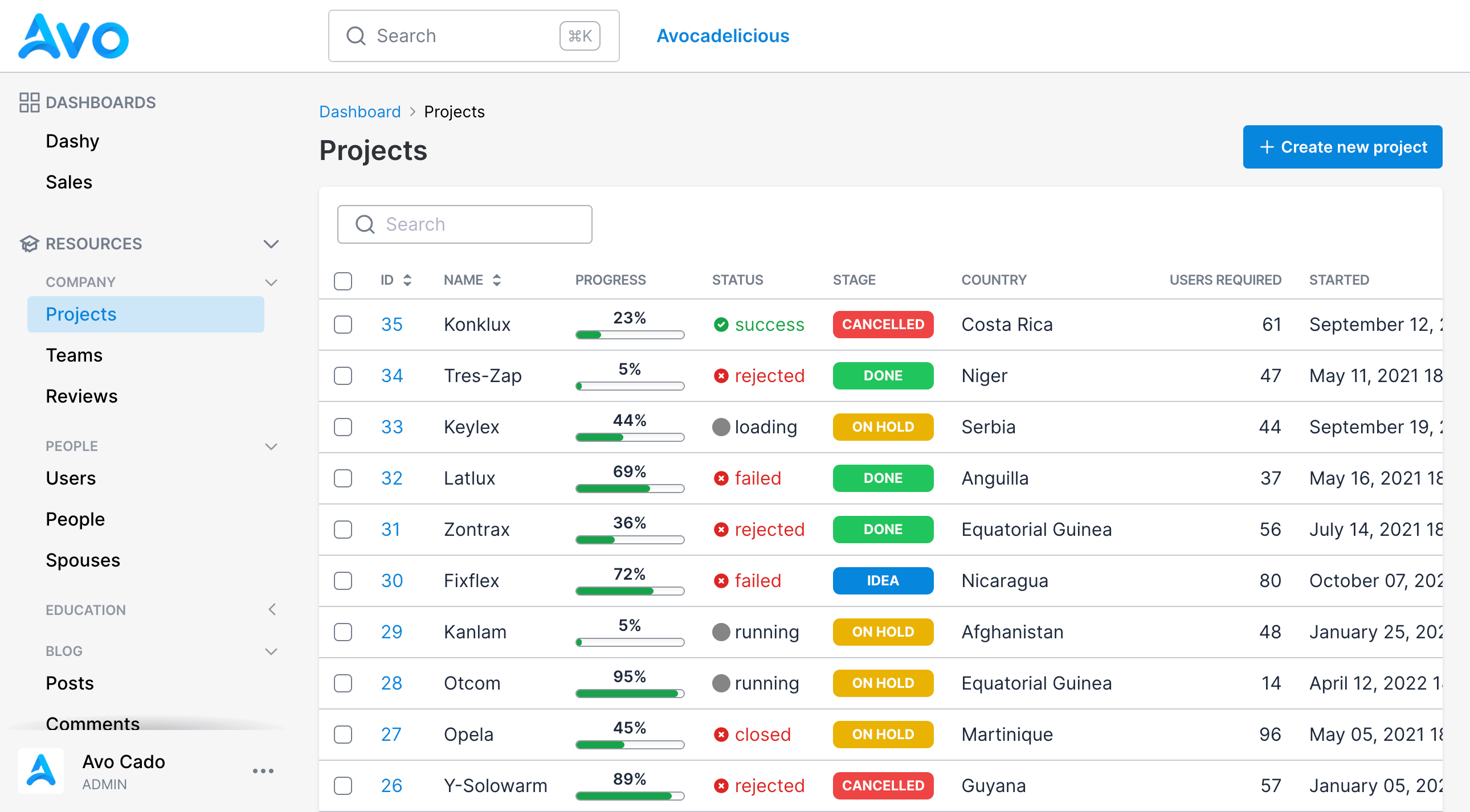 A video library by your side
Do you learn better by watching videos? We got you covered!
Ready to save some development time?
Start your free trial today.