"it's like adding multiple developers to my team"
"the true Rails spirit, fast and effective"
Build Ruby on Rails apps
10x faster
Save precious time and get all the features most apps need
Avo uses familiar configuration to build up the features you need from most applications.
The result is a full-featured customer-facing app that works out of the box, ready to be used to your end-users.
copy and paste
to install in a Ruby on Rails app
All the tools you need to build your new app fast
Using Avo is like bringing a new developer to your team that's building all the boring stuff in a beautiful way
Loved by our customers
Adding Avo to my project was like adding multiple developers to my team

- and that's before I even purchased a license!
I do not like DSLs. They always cause troubles in the long run.

But this one seems "natural" I didn't even notice.
Avo is a beautiful Rails based administration system. In comparison to competitors, it wins in it's visual style immediately and that's not taking into account all of its features.

It's simple to use, has excellent documentation, and anything that is not covered is helped super quickly and efficiently by Adrian.

Highly recommended!
I needed something snappy and reliable that would help me focus on the truly unique aspects of my application rather than the boilerplate.

Avo gave me exactly what I was looking for in the moment, and somehow anticipated the features I'd need later on down the line.
Avo is so f***ing awesome. I am a java developer with 25 years of experience. I looked for a rapid application framework to build an internal ERP system for my small company. Its sooooo good. As a java developer without much ruby and rails know-how (only 1 or 2 tutorials),

I could build up most of what I needed in ONE weekend.

I wish I had that for java!!!.
Want product news and updates?

Releasing new features regularly
v2.28.0 released 13 days ago
v2.28.0 - Field-level authorization, card visibility modifier, and fetch labels for tags
See all releases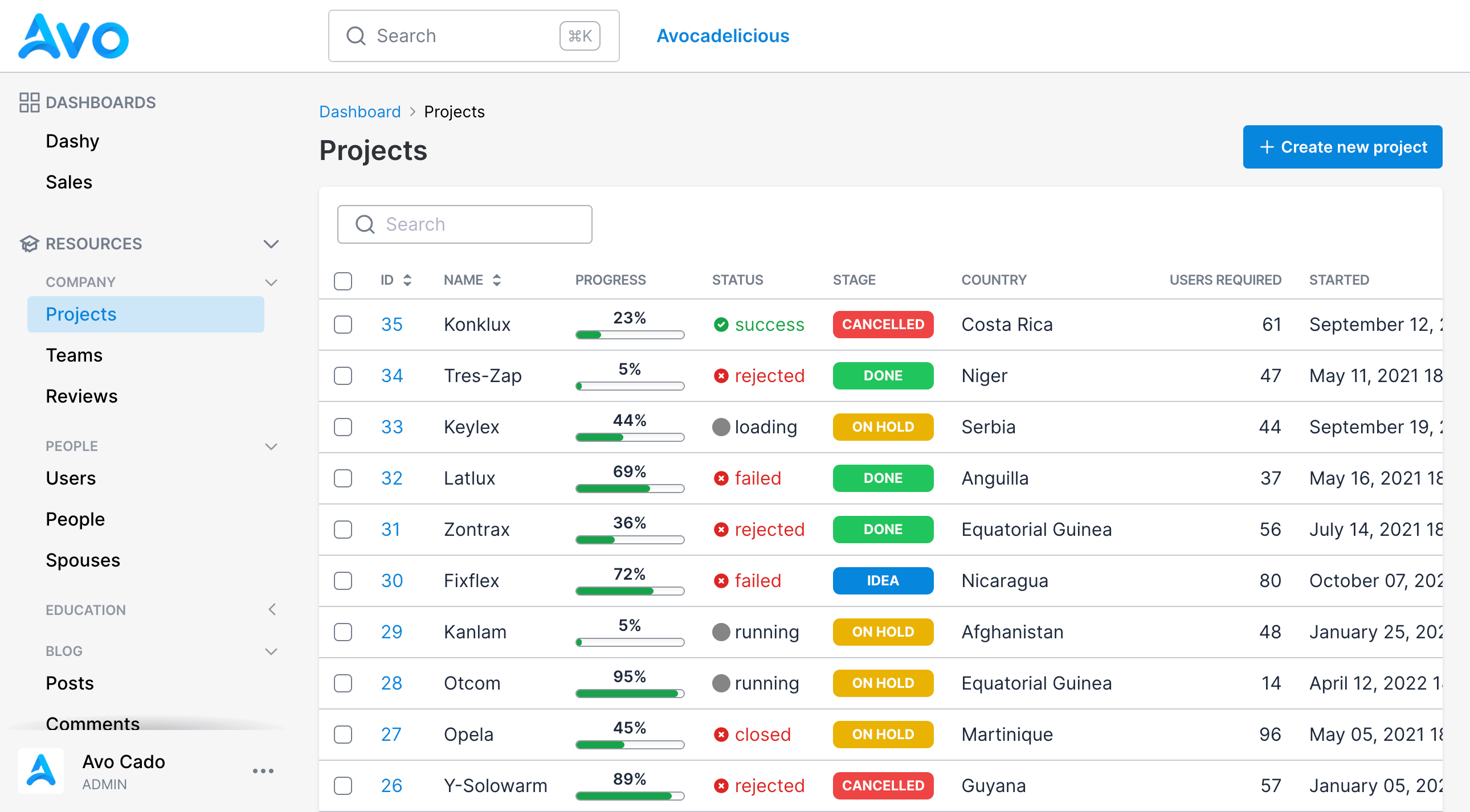 A video library by your side
Do you learn better by watching videos? We got you covered!
Ready to save some development time?
Start your free trial today.